It all began a few years ago. Sunnivah just left her home at her 17 th and traveled around the world to find a job. It was raining. Sunnivah walked past a little village. I walk in and look for a place to sleep tonight. I walk in and pay up. I immidiantly walk to my room and lay down.  The next day i ask the owner of the [url=#]
hotel
[/url] for a job. He said he didnt know but that she could go to the guild house near this building and ask there. 
I do what the man asks and walk in. There i tell the guild that i want to do a job. They tell me that there is someone in the woodsthat scares them. Rumors said that it was a little girl others that it was a demon. They promised Sunnivah to find out more about it. I smile and accept my first job. 
I immidiantly run away too the woods and start my quest. After hours walking around i still found nothing. Sunnivah just decided to reyurn to the guild and ask about this joke of them. Then i [url=#]
hear noises
[/url]. It coms from behind me. 
I turn around and jump away in tim to avoid getting hit by a big root with sharp thorns. I draw my sword and prepare myself to defend myself.
Dont hide and show yourself coward !!! Do i yell. 
After. My yell someone walks out of the bushes. Its a little girl. I look bwtter and am shocked. This was not just a usual girl. It was the well known mighty Kusano. The most feared child in the world. She may looked innocent but was a strong spirit master. I lower my sword and ask her what she is doing here. 
Kusano looks at her and feels she can trust this young woman. Kusano smiles and tells the woman who claims to be Sunnivah that she is onn a mission in those woods. She was on her own mission to find a mighty wizard who wanted to use his power of time control to fuse all worlds tgether for true chaos. Kusano told she wamted to stop him and followed him throught portals and ended up here. 
Sunnivah asks if she can help and luckily she said yes. I follow kusano. We talk to each
Eachother and learn alot. Sunnivah was really happy and suprised about it.  She really met Kusano. I walk next to her and ask alot of things. I notice after a while that it is bothering her and i shut my mouth.  After a few days traveling later Sunnivah and Ku got really attached toeachother and i learn that unless ku was really strong she still was just a child and sunnivah felt responsible still knowing that Ku was way more stronger and would whoop her ass if i had to fight her. Still i ask her to help me getting stronger and to learn more about spirits. Kusano tells me all she knows. Its all [url=#]
hard
[/url] to understand and alot of information. 
A few months passed by and Sunnivah got alot stronger and even learned a few tricks. Me and ku fought everry night. She beated me up everytime still i was amazed by her speed and strength and just everything about her. Still she also felt embarresed because she was beaten up by a little [url=#]
girl
[/url]. Then that day we found where we were looking for. The hide out of the wizard.
We enter the building and draw our weapons. We carefully lok aroud for attacks that could come from any direction. Also we watch our steps for any traps. Then suddenly from our left comes a lightning attack. Me and ku dodge the attack and the wizard appears out of,the shadows. '"So you found me ku and you brought a friend with you. This could turn out into something really enjoyable. Im not only going to defeat ku but also her friend'" he laughs evil. 
Then he attacks again with lightning . We both dodge again.
I charge with my sword from left at the wizard . Ku does the same from his right. The wizard raises a hand at Sunnivah. His eyes glow. Suddenly my body moves backwards. He parrays Ku s attack  and jumps away to keep his distance. "Is that all you got ? How pathetic"He shoots lightning at Sunnivah. She dodges but the wizard manipulates the time again . my body moves backwards and Sunnivah get hit by the lightning. She yells in pain. She stands up. Ku asks if I am alright .  Sunnivah smiles at her and tells her that i am fine.
We look at our opponent. Ku uses her roots to tie the wizard up. The wizard s eyes glow and the roots roth away. I dont hisitate and attack. The man dodges my blade. I contineau and punch him in his stomach.
Th wizard's breath stocks. I dont wait and contineau and quicly follow up with more puches. Ku also jumps in and launches her small but strong fists agaisnt the wizard's body.
It looks like the wizard is getting beaten up. Just when we decide to finish him of and knock him out  he catches our fists with his hands. He cant hold them but because of it he gets pushed away a few meters. Slamming hard agaisnt the wall. He quickly stands up and laughs. "It seems you both are not only big talk after all still you wont defeat me with your fists you both are too weak.

He then opens 2 portals of time and out of it comes a T-rex and a tank . The wizard demands them to attck Ku and Sun. Ku and Sun rush forward. Ku summons roots to trap the tank and the T-rex still the T -rex menages to get close and attacks Ku. I meanwhile concentrated at the tank. Then i saw what happened and summoned a shield infront of Ku. The T-Rex slams his head hard against the shield and shakes its head. Still now i summoned the shield my sword was gone and i was wide open. The tank blasts a cannon at me and i get hit.. I fly through the sky but luckily my armor protected me from the fatal blow. Its ripped appart but i was safe. I stand up and was only wearing my ussual clothes. I breath heavy. The wizard laughs and opens a another portal. Ku an di do not notice it. Ku quickly gets near me and summons a shield of roots and starts to heal my body. Aftr that i stand up and thank her. Ku takes away the shield and we re ready for ou opponents. "Thank you Ku. Ku replies that it was no big deal and also thanks me for that should.
Ku summons then so much roots that they ae everywhere and it gets also darker. The T-rex gets esorientated and Ku moves with massive speed between the roots. I follow from the ground and try to keep up  what seems to be impossible. The T - rex lifts a feet to crush me i run behind him and when the dino puts his leg on the ground i slice off its feet with my sword. Meanwhile from above Ku jumps on the head of the T-rex and drop a plant bomb. It explodes and i et the plant grow.the shap throns are hurting in its eyes and shin. The Roots grow inside of his body and then a strong root breaks through the skull and goes through its brains. Blood splashes around. The Tank shoots missles at us. We now easily dodge them and then Ku suddenly rises a army of dead. it attacks the tank and distracts it. Ku grabs her bazooka nad shoots it at the tank. There is a huge explosion and the to tank is gone only its iron parts are left. 
Ku makes the roots disapeara dn we wanted to rush foward for the wizard but he was gone. A portal was closing. We noticed by now that the wizard went through the portal.  Quickly we ran and just got through in time and it closed behind us. "That was close Sunnivah we almost didnt make it through the portal he is tougher then and more stubborn then i thougth. Also where are we now? "
We look around. This place was unknown for both of them. We start to explore. It took us a while to get to the most nearby city.We enter the city and there is a market. Ku suddenly is schocked. She rememebreed this place now. This was for her the most beautifull day that she would never forget.. Tears appear in her eyes. This was her past it was that one special day. Ku doesnt tell Sunnivah nothing hoping she would not notice. Then someone bumps me and Sunnivah aside and a little blond haired girl witha dirty dress a teddy bear a plant on her head and a small bag runs past them. She got chased by some soldiers. Ku puts a hand infront of her mouth. That was her. She saw herself. Ku runs after the soldiers and the younger Ku. Sunnivah did run after Ku. The younger Ku walked into a death end. Sunnivah drew her sword to help but Ku said to me to stand back and watch. She told me the little girl would be alright. I did put away my swoerd and wtch The little Ku summoned some roots to get over the wall and made themm dissapear when sehe was over the wall. Ku looks at me and smiles. "See i told you she would be fine but lets follow her.
They follow the younger ku and watch what she is doing. Time passes by and sunnivah gets a little irritated. *why are we following this little girl its sad to see how she lives here but weneed to go after this wizard . Ku turns mad at sunnivah *quiet and just do as i tell you* Shocked sunnivah shuts her mouth. I watch at the little girl. Its getting later and its getting darker. Then suddenly the girl we are watching started to follow a group of soldiers out of the city into the forest. Sunnivah looks at the group amd recognised luna melody and all the other spirit masters . The big legends. She now knew wjo the little girl was. It was a younger version of the girl next to me. I now watch carefully and saw how stromg ku already was back then.
Then the girl joined the group andjoined them. Ku lays a hand on my shoulder. I look at her and she is crying and smiling at the same time. She tells me tjat its time to go. She thanked me for beinghere qith her to watch her most beautifull day.
Then we head out to look for the wizard.
Still just when we leave i see the wizard following the group. I poke ku and point at the wizard. " he wants to hange the future by killing or sending them back in time Ku. We cant let this happem we have to stop him at all cost. The wizard didnt notice them and was only concentrated at the r
Group he was followimg. Sunnivah amd ku did sneak up to him amd grabbed him from behind. We throw him away from.the spirit masters and he lands a few meters further . We both go after him and just get in time before he could run away agaim. The wizard curses at us and shoots his lightnimg. "I was hoping to never se your ugly faces again also you both are weak you wont stop me "
We both look mad at the wizard and are ready to fight back
Both of us also summon our spirits. Queen angel of roses and inori appear. We quickly split up in 4 and attack the wizard. We attack him from all the directions. The wizard uses his time magic again. Only sunnivah gets blown away and hit by lightnimg. He parrays ku s attack buylt the two spirits didnt he stopamd theystab him in his body. Blood splashes on the ground and the wizard falls on the ground becauae of the pain.
The wizard opens a new portal but before he can enter Ku tkes her bazooka and blasts the Wizard away from the portal. It closes and quickly Ku summoned 2 creaures of wood. Now yhe group was with 6 agaisnt the mighty wizard. He laughs and opens portals behind him wit more enemeys to fight agaisnt. Sunnivah let her blade surrounded by flames and attacks them. I also use my dual slash to increase the speed of my attacks and cause much more damage. Meanwhile the spirits also fight and so does Ku s creatres. Ku stands behind everyone and supports them using her roots and plants. After a rough battle all the creatures are gone and the wizard doesnt have enough magic to make more portals. Also at the same time the createres Ku sommoned got killed  the spirits were exhausted and went back into their hosts and Sunnivah was also sweating alot. Ku still got alot of energy and strangth left/
She now summons her second spirit and also does Ku change in a black haired girl. She looked innocent but meanwhile she carried a scytile and in her eyes you could see pure evil.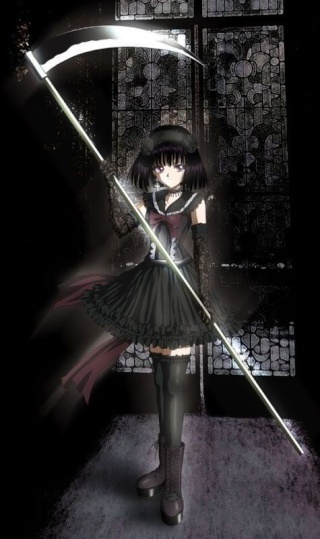 The wizzard looks also at her and i see fear in his eyes. Still he doesnt back down and i ready. "That wont help you two eather ahahaha"
Ku points her weapon at the man. This will be your end we will defeat you and bring you to the court where justice will prevail and lock you up in prison. Your days of crimes are over Did sunnivah say. Ku changes herself into a grim reaper what made her even more scarrier and beautifull at the same time.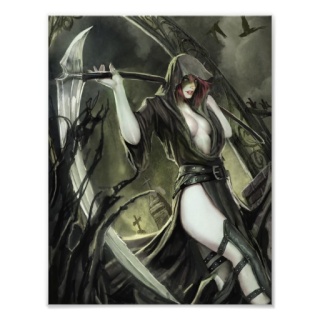 She then appears behind the man and slices with her weapon in his back . The man screams in pain * Bring us now back to our time" said Ku. Her eyes werre red of pure evil . Sunnivah watches not knowing what to do. SHe walks to the man and smiles. and asks him nicely i her would please open a portal. The wizard spits in my face and shoots electricity at both of us. I yell in pain and fall on the ground. Still ku didnt even seem to bother and salmmed the scytile in his back soo hard that the blade goes through his body. You could see the blade comming out of his chest. Ku lifted the Scytile and rammed it in the ground. I watch at the cruel way Ku treated this wizard. Ku stood infront of the man and demanded him to teleporrt us back.
Sunnivah gathers her strength and stands up. I slowly walk to Ku and lay a hand on her shoulder. "Calm down Ku you are hurting him and this is  not the way you should treat peopele even if they are bad guys. Ku looked at Sunnivah and saw the tears and pain in her eyes. Ku slowly turned back to her normal self "Thank you Sunnivah im glad i took you with me "She turns back tho the man . The scytile the wizard was hanging on was gone and the wizzard layed on the ground. He did have a huge hole in his chest and a pool of blood surrounded the wizzard. Ku and i quickly start to heal him.He lost his consciousness. After he woke up a few hours later he opens his eyes. "its time to go home you lost  wizard"said Sunnivah. The man opens finally a portal and we deliver him to the king. He gives us a reward and also  promised Sunnivah he would support her in any way he could from nw on until she got enough money to stay alive. Also he offred her a special rank in and onored her by telling her she would always be welcome to sleep at the palace if she wanted. Sinnivah smiled and said she would serve him and that i wouldnt dissepoint him.
Then it was time for me and Ku to say goodbyeShe said she had to go to hel Luna because she needed her. I asked if i could go with her but Ku said no. She said it would be better to split up. We enjoyed our last night together and the next morning i wake up and Ku is gone. I look around our camp we did set up in the forest because we wanted to sleep like this one last time . Then i notice a ltter and a bag. I open the letter and in it Ku had ritten that she was sorry for not saying goodbye bt that she really had to hurry to Luna. Also that she thanked me and wanted to meet me again. In a P.S. she wrote that the armor and bag were for me. In the letter she wrote it was a magical bag that allows the one using it to put in as much as she wanted but it wouldnt influence the weight. Also that the armor was a magical armor that would be red coloured if she did alos wear the helmet. Besides of that did it contain  alot more powers i had to discover myself.
I close the leter and take the bag. I open it and take out a beautifull armor. I imidiantly put it on and i feel amazing in it. I put my stuff in the back and noticed it was true what Ku had written about the bag. Then i start walking to the most nearby village for some beer food and a bed to sleep.